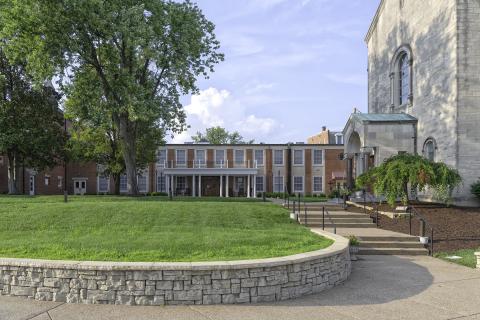 The Academy of the Sacred Heart's culture and identity is bound to the legacy of St. Rose Philippine Duchesne who founded the school in 1818 and the mission of Sacred Heart education articulated in the Goals and Criteria. This history and these values form the moral compass that shapes and defines our school community. The distinctive spirit of Sacred Heart education addresses the student's total development: spiritual, intellectual, emotional and physical.
Traditional and transformative, the Academy of the Sacred Heart is readying students to take their place in an unpredictable future and an unpredictable world. 
Mr. Don Albert
Strategic Enrollment Management Director
Mission
Rooted in the spirituality of the Society of the Sacred Heart of Jesus (RSCJ) and in the tradition of the Roman Catholic Church, the Academy embraces an educational approach that values the integration of the physical, cognitive, emotional and spiritual dimensions of our students. We educate and inspire the heart and mind of each child to become a courageous and confident leader who knows and loves God, and who reveals that love by serving others.
Purpose
At the Academy of the Sacred Heart, we view education as a means to an end—that end is to make known the love of God present in the heart of Jesus. Sacred Heart education is, at its very core, relational. Children experience the love of God through their relationship with teachers, coaches and school leaders. The Catechesis of the Good Shepherd helps our youngest learners grow in faith and understanding. The study of theology encourages students to become reflective, compassionate persons of faith. Through service learning, students are presented with opportunities to 'be God's love' in the world.
Quality
Academy students are characterized by their inquisitive nature, their ability to problem solve in a collaborative environment and their desire to serve others. Across all grade levels, this is accomplished by encouraging exploration and allowing students to drive the learning by having them develop critical questions to answer. By fostering a growth mindset across the curriculum, students discover their own potential and capacity to learn.
Dynamic Community
Joining the Academy community is like joining a family. Children and parents alike find their place here. Families are encouraged to participate in the life of the school though attendance at Feast Day Masses, school-based events and gatherings as well as through participation in Scouting, Girls on the Run, and athletics. Students explore interests through co-curricular activities and leadership opportunities.
The Academy of the Sacred Heart is a member of the Network of Sacred Heart Schools and as such presents its students with opportunities for participation in student exchange programs, summer service programs and student leadership programs across the United States. Academy students grow to understand that they are part of a legacy of love and learning than expands well beyond our Saint Charles campus.

Statistics
1:1 devices, including iPads and laptops, for students across all grades
Single gender classes in grades 5-8
French and Spanish language instruction offered beginning in Pre-Primary (4 year olds)
Science taught, beginning in Kindergarten, in 3 lab spaces
Quality daily Physical Education
Award-winning Robotics Teams
619 N. 2nd Street
St. Charles, MO 63301
United States