Catch the Spirit!
At All Saints School, we embrace our parents and the role they have as primary educators of their children and commit to working together to ensure each child's spiritual, social, emotional, and academic development while also nurturing the whole child and his or her gifts and talents. We have dedicated ourselves to helping students realize and reach their full potential as students and followers of Christ. We believe that in following the model of Jesus, our teacher, there cannot be faith without service to others and that to serve joyfully is one of the most fulfilling and spiritually enriching experiences anyone can have. In our caring and nurturing environment children grow in self-esteem, self-discipline, and learn to work, play and pray with others in ways that are mutually supportive, enriching, and respectful. Our students grow to become outstanding leaders, people of faith, and dedicated learners. Our faculty's devotion to fostering inclusive classrooms through personalization and differentiation helps to ensure the growth and success of every child. Dedicated and compassionate teachers make All Saints School feel like family and create a welcoming environment for all students. It is our sincere hope to foster an environment where every child experiences the joy of serving others, the love of Christ, and days filled with excitement and wonder on the journey toward life-long learning.
Mrs. Mary Grace Villmer
Principal
Mission
At All Saints School, we provide an education enriched with the Gospel values and teachings of Christ. We strive to ensure each child's spiritual and academic growth while nurturing the full child and inspiring the development of his or her unique gifts and talents.
Purpose
Students' faith-life is enriched through celebration of the Eucharist, service, daily prayer, and in community with each other. In addition we help students develop a heart of faith through unconditional love and support as we lead with Christ's example. This faith-filled community teaches students to be witnesses for Jesus through service to others. Junior high teachers integrate faith into the teaching of core subjects building students' faith and knowledge.
Quality
All Saints strives for excellence in teaching. We believe each child can grow, prosper, and succeed. Through differentiation, we meet students at their level and move them forward. Teaching with rigor our students are challenged with work that makes them think. Utilizing hands-on learning, STEM for K-8, and flipped junior high classes ensures students develop as thinkers and leaders ready to embrace 21st Century learning and life.
Dynamic Community
We believe in developing the whole child and allowing exploration of each student's unique gifts and talents. Teachers plan or sponsor a variety of activities such as junior high electives, class plays, student presentations, the Bellarmine Speech League, our annual Talent Show, and other clubs which ensure that students have opportunities to use their gifts and talents in and outside the classroom.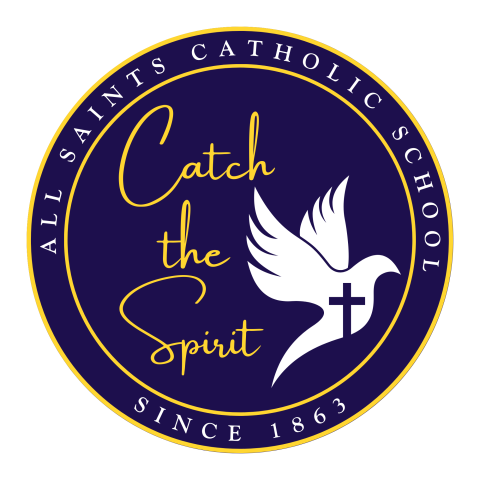 Statistics
We have provided over 155 years of faith formation and education.
Pre K student/teacher ratio 1:8
K-8th student/teacher ratio 1:16
All K-8th Grade students utilize a personal Chromebook, provided by the school.
100% of our 8th graders are accepted at 1st choice Catholic high schools.
5 McMenamy Road
St. Peters, MO 63376
United States