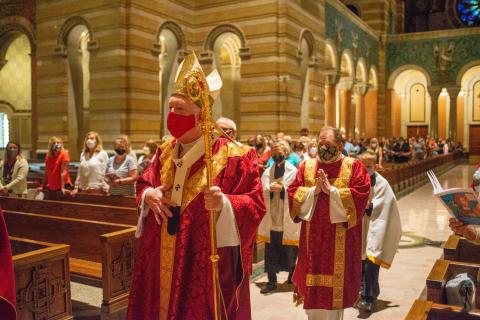 As families prepared their households for the school year, filling their shopping carts with crayons, notebooks and backpacks, the Archdiocese of St. Louis and Office of Catholic Education and Formation prepared by commencing the 2021-22 school year in prayer.
  On Monday, August 9, Archbishop Mitchell Rozanski celebrated the Mass of Catechetical Commissioning at the Cathedral Basilica of St. Louis with a blessing for our elementary educators. The Mass of Celebration for Secondary Education followed at St. Vincent De Paul Chapel on Wednesday, August 11, and was also celebrated by Archbishop Rozanski.
  During his homilies, the archbishop addressed the beauty of receiving a Catholic education and how instrumental our educators are in forming young people.
 "The greatest gift we can give our students is that of Catholic education," said Archbishop Rozanski at the Celebration for Secondary Education.
  Dr. Todd Sweda, Senior Director of the Office of Catholic Education and Formation, and Dr. Maureen DePriest, Co-Director of the Office of Catholic Education and Formation and Superintendent for Elementary Education, also addressed each congregation to thank our leaders for their strength and diligence in providing our students with top quality education.
    Please continue to keep our students, faculty and staff in your prayers as we enter into the new school year.
Photo Credit: Katherine Blanner