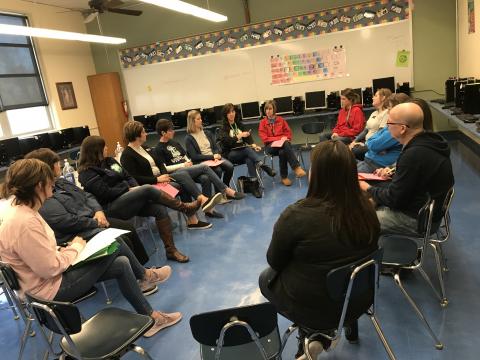 Catholic educators in St. Charles, Lincoln, and Warren counties recently met for their annual spring PAC2E development session, held every year on the first Friday of March. 
Begun in 2015, PAC2E (a nifty acronym for Professionals Accelerating Collaborative Catholic Education) exists to supplement regional meetings of Catholic schools in the area. With four meetings a year, eight schools now participate in PAC2E programming: Immaculate Conception (Old Monroe), Sacred Heart (Troy), St. Alphonsus (Silex), St. Paul (St. Paul), St. Patrick (Wentzville), St. Theodore (Wentzville), Holy Rosary (Warrenton), and St. Joseph (Josephville). 
These communities are smaller than many other Catholic schools in the surrounding area, each with only one class per grade level. This often makes collaboration between teachers charged with the same age group difficult. Educators at these institutions developed the team effort of PAC2E to remedy this problem and supplement larger regional meetings of Catholic schools, many of which have larger student bodies and therefore different challenges that they face.
PAC2E schools meet four times a year, and their principals confer more frequently. The year begins with a day-long retreat in August to provide recollection and build spiritual leadership before the start of school. The other three meetings a year take place in the afternoons on half-days, typically the first Fridays of October, December, and March. The fall meetings are usually professional development sessions, and the March meeting tends to be a more informal gathering focused on sharing what teachers learned at previous meetings, curriculum development, and building collaboration between institutions. Professional development the last two years has focused largely on how to cultivate students' mental health. 
You can learn more about how our Catholic schools place students first by going here.