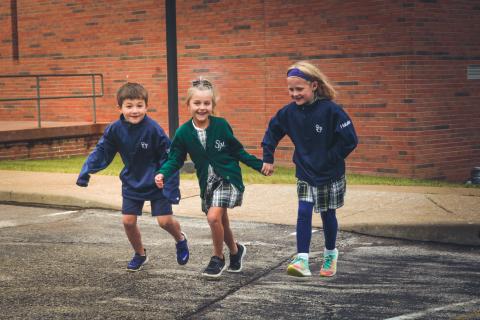 Welcome to the new archstlcatholicschools.org!
Catholic schools in the Archdiocese of St. Louis are rich in history, celebrating over 200 years of Catholic education, with a coalition of schools serving over 30,000 students (PreK-12) within an 11-county area. Our schools allow our children to develop a sense of purpose and value, receive a higher quality education, join a welcoming community and feel secure in a dynamic future. The educational experience provided to our students and their families is rooted in a higher calling from God to honor and celebrate the gifts He has given to us.
In the Catholic schools of the Archdiocese of St. Louis we are teaching what matters most, where your child can:
1. Develop a sense of purpose and value
Our Catholic schools help students develop a heart and mind for God. Each of us has a purpose and value that extends far beyond money or power. We are on this earth for a greater purpose as is witnessed in the service learning opportunities our students participate in to replicate what Christ calls us to do. Scripture tells us how to live in this world and not become of it, and this value is passed onto the children in our schools. Recent Catholic school graduates are seven times more likely to attend weekly Mass.
2. Receive a higher quality education
Students who attend our Catholic schools are higher achieving than their peers and better prepared for the future. "The archdiocesan average ACT score is higher than 99% of Missouri schools districts and 4.5 points higher than the state average." Our schools have been awarded the U.S. Department of Education's Blue Ribbon School award 21 times. A higher percentage of Catholic high school graduates attend a four-year college.
3. Join a welcoming community
Our Catholic schools offer a nurturing and accepting community that is rooted in the Gospel message of love and acceptance, no matter your culture, faith, diverse needs or economic status. Scholarships are available to ensure Catholic education is an affordable option. We promote a strong faith community, centered upon the family, and we exist to ensure our children will succeed not only in school, but in life.
4. Feel secure in a dynamic future
Our Catholic schools provide a variety of opportunities which allow students to explore their interests and pursue their talents. Whether it is academic, athletic, artistic or beyond, students' learning experiences allow them to feed their desire to excel and aspire to their calling. Since 65% of today's grade school children will have jobs that do not yet exist, students need to learn how to think critically, problem solve, explore and experiment. Co-curricular opportunities ensure a holistic learning experience that encourages students to give back to their communities and excel in life beyond the classroom.
Catholic school students are vital to the future of the Catholic Church. They are more likely than their peers to attend Mass, receive the sacraments, and practice their faith. When we choose Catholic schools, and when we support Catholic school students, we form the future Catholic Church and build Christ's kingdom on earth, all while building strong citizens that will excel in their future vocations.
Explore archstlcatholicschools.org to find the Catholic school closest to you and learn more about available scholarships.