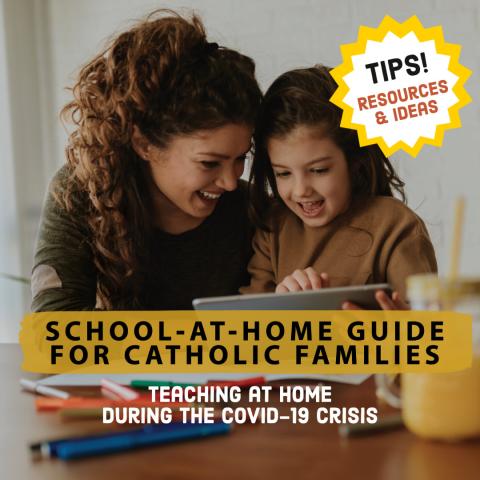 Most teachers are providing excellent lesson plans for learning at home, but parents can add to those lessons with resources that encourage learning through games and educational videos. If your school-at-home day needs a boost, try these sites for something new!
Kiddle
Kid-Safe search engine
www.kiddle.co
Zoom
Video conferencing with your class
Download the app on your devices
zoom.us
Beyond the Pew: Catholic Parenting Resource
Ablaze Ministries
www.youtube.com/playlist?list=PL7ecQyUVRnORQzUqBk_3J_fv_qo-L2M3I
Teaching Catholic Kids
Catholic parenting resource
teachingcatholickids.com
CatholicMom.com
catholicmom.com
Early childhood
PBS Kids
Games, activities
pbskids.org
ABCmouse (Children preschool-2nd grade)
Educational activities
www.abcmouse.com/redeem
Enter School Code
Social Studies and Geography
Tour the States
Tour the States song
www.viewpure.com/_E2CNZIlVIg?ref=search
TIME for Kids
TIME news articles for kids
www.timeforkids.com/g34
TED Talks for Kids
TED Talks to watch with kids
www.ted.com/playlists/86/talks_to_watch_with_kids
Math Game Time
Math game
www.mathgametime.com/grade/4th-grade
Highlights Magazine
Activities, jokes, games
www.highlightskids.com
BrainPop
Educational videos
go.brainpop.com/COVID19
Click on FREE Family Access, sign up with your email and follow instructions for access.
Amazon Audible
Free books for all students, no subscription necessary
stories.audible.com/start-listen
Exploratorium
Experiments, activities, videos on all subjects
www.exploratorium.edu/explore
ReadingIQ (Children Preschool-6th grade)
Educational activities
www.readingiq.com/redeem
Enter School Code
Science
Nat Geo Kids
National Geographic games, videos
kids.nationalgeographic.com
How Stuff Works
Watch videos about how stuff works
www.howstuffworks.com
Discover Nature Live Cams
Photos and videos of nature around Missouri
nature.mdc.mo.gov/discover-nature/photos-live-cams
Google Earth
Satellite photos and videos of Earth
www.google.com/earth
NASA Kids Club
NASA videos, games, photos, activities
www.nasa.gov/kidsclub/index.html
Virtual Field Trips
Museum, zoo virtual tours
adventuresinfamilyhood.com/20-virtual-field-trips-to-take-with-your-kids.html
Click here to see more resources for parents.