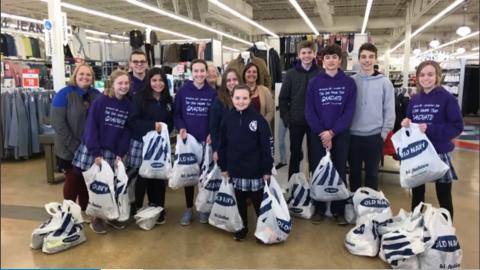 A long-standing and fruitful partnership between archdiocesan grade schools in South County and Hancock Place School District in Lemay recently marked a new milestone as the Catholic institutions raised $5,246.16 to provide a washer and dryer to both of Hancock's campuses.
Hancock schools are one of the most at-need districts in the state. Around 80% of the students qualify for a free or reduced-price lunch. Area Catholic schools have partnered with Hancock for several years to provide for the district's students in need. The washer-dryer initiative was the latest installment of this community outreach and involved four archdiocesan schools: St. Margaret Mary Alacoque, St. Simon, Assumption, and St. Francis of Assisi.
The partnership between the schools originally began in 2013. St. Simon School began funding weekly deliveries of food to Hancock for families that would not have access to meals on the weekends. The partnership expanded to include St. Justin's parish school in 2015 when the project became too large for St. Simon to sustain alone. What started as the "Weekenders Program" grew to providing pizza dinners to PSR students at St. Andrew's in Lemay, a program attended by many Hancock students. The schools also helped fund Hancock students' shoe and clothing shopping as well as several hundred food bags provided to families with kids on the lunch program to help them through the summers. 
Beth Bartolotta is a parishioner at St. Simon and was principal at St. Justin in 2015 when the partnership with Hancock grew to include that school. In 2017, when she came on as principal at St. Francis of Assisi in Oakville, located just down Telegraph Road from Hancock schools, she decided to have her new school join the partnership. In talking with a counselor at Hancock, she learned of a need for hygiene items. Students at St. Francis then embarked on making "blessing bags" of hygiene supplies and delivering them to Hancock. 
The partnership grew yet more this year. In January, all Region 5 schools in the archdiocese (which includes St. Simon, St. Justin, St. Francis of Assisi, and others) shifted their annual service project from providing hygiene bags to a homeless shelter to giving directly to Hancock schools. Students hand-deliver items directly to students at Hancock. 
When Bartolotta was considering a Lenten service project for the schools to take on this past spring, she spoke with counselors at Hancock who mentioned that some students do not have access to laundry at home. Together with Hancock superintendent Tim McInnis and the Crisis Counselor for the District, Shery Rischbieter, school officials determined that $2,500 would be needed to purchase two stacked washer-dryer units — one for each campus of Hancock. (McInnis is an alum of St. Francis and now sits on the parish's school board). The project was dubbed "Wash Out Fear, Dry In Dignity," or "South County Kids Helping South County Kids." St. Margaret Mary Alacoque, St. Simon, and Assumption joined St. Francis of Assisi in a competition to see which school would raise the most. 
The schools met the $2,500 goal in a whopping 10 days, and extra funds are to be directed towards purchasing personal items and laundry supplies. Closures due to COVID-19 shortly thereafter halted much further competition — and in lieu of choosing a victor among the four archdiocesan schools, Hancock was declared the winner. 
Although festivities are off for now (the schools plan to eventually do a giant check presentation), the units are set to be delivered to Hancock on May 16th for use when normal schooling resumes. 
And as far as the future, Bartolotta sees bright hopes.
"There are many mutually beneficial components at play here that align with our mission," she said in an email. "As principals, we wish to provide meaningful service opportunities for our schools. This district has extreme needs and yet, striking similarities to the rest of us. It also interests me that we blur the lines of public-private here and just consider ourselves South County kids helping South County kids." 
You can watch a video that Bartolotta sent to students to kick off the competition here. 
To learn more about the archdiocesan schools and inquire about the 2020-21 academic year, go here.