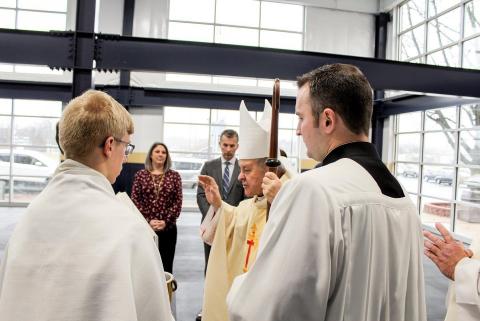 The community and curriculum at St. Pius X High School in Festus have gained a new addition with the opening of its new Wellness Center this semester. 
The newly-constructed space replaces the old weight room and highlights the central role that physical wellness plays in Pius X's curriculum. The Center exhibits eight more weightlifting stations than the previous facility, and the total amount of equipment has doubled. The design also incorporates copious room for stretches, medicine balls, and resistance bands. Two garage doors on either end can be opened to improve air circulation and create room for sprints. At 40 by 70 feet, the Wellness Center is three times the size of the school's old weight room and can hold well over 50 individuals at a time. 
In their commitment to incorporating physical health alongside academic and spiritual wellness in the curriculum, Pius X includes Wellness classes in its graduation requirements. This course of study allows all students to learn to use the facility, making it popular among athletes and non-athletes alike.
In a visit to the school on February 24, Archbishop Robert J. Carlson stopped by the Wellness Center after celebrating Mass for the student body and blessed the nearly-ready facility. 
In a gesture to the wider Pius X community, use of the Wellness Center is open not only to students, faculty, and staff, but to alumni as well. The facility opened for use on Friday, February 28, and an official opening ceremony will take place on Tuesday, March 10. 
The construction of the Center was made possible through a number of grants, including awards coming from Show Me Weights in Fenton and the Jefferson Memorial Foundation in Jefferson County. The Archdiocese of St. Louis also contributed funds. 
To learn more about our archdiocesan Catholic schools, go here.