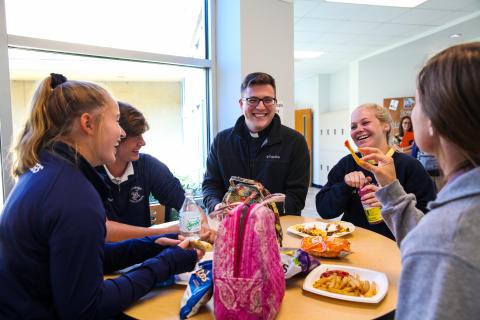 Where'd you go to high school?...the unavoidable question. 
Whether it's across the table at dinner with new friends or outside the Church after Sunday Mass, the people of St. Louis are known for strong allegiances to their high school alma maters -- and a keen interest in the allegiances of others, too. It's an immediate identifier and point of connection, one that's unique to our community.
In the Archdiocese of St. Louis, elementary and high school education has become a touchstone of our conversations and community. Which begs the question, why? 
Well, we believe that the overwhelmingly positive education and experience drives our students to not only identify with their high school, but pass on the legacy of a Catholic education. After all, with over 200 years of Catholic education under our belts, we know a thing or two about teaching and nurturing our students.
Much has changed over the course of two centuries, requiring dynamic and adaptive leadership and curriculum from our Catholic educators. But regardless of the decade, the heart of our mission has remained the same: to educate the whole child, while honoring each young person's God-given gifts.
We're now a coalition of 100 elementary schools and 25 high schools engaging over 30,000 students within an 11-county area, the largest "school district" in Missouri, and have a list of success stories a mile long. Some highlights include: 
Average ACT scores in our Catholic high schools are higher than 99% of school districts in Missouri
Our students are seven times more likely to attend Sunday Mass 
98% of our high school graduates attend colleges or other post-secondary schools or training
And in the 2018-19 school year, our students performed over 500,000 total community service hours
We're proud of this diverse list of achievements because it's a reflection of our students -- intelligent, accomplished, and most important, active in their faith, both at Mass and throughout their communities. 
If you went to a Catholic high school in the Archdiocese of St. Louis, we bet you'll recognize this experience -- one that supported and emphasized the development of the whole person, mind, body, and spirit. 
Times have changed, but the quality and community of a Catholic education hasn't. Are you ready to pass on the legacy?