Welcome to Immaculate Conception School in Old Monroe!  We welcome children in preschool through grade eight.  With 217 students, we foster our children's spiritual, social, emotional and physical growth.  Each day my thirty dedicated staff and I have the privilege to share the love and the teachings of Jesus Christ  while also focusing on faith development, academic excellence, and service to others. Our school is proud to be part of the Archdiocese of St. Louis, the oldest and largest school system in the state of Missouri. We invite you to visit our school, tour our classrooms and experience the rich heritage and academic excellence Immaculate Conception School Old Monroe has to offer.
Mission
Immaculate Conception School strives to follow in the footsteps of Jesus by providing a spiritual, moral, and academic education for our students. Through a shared partnership with parents, staff, and the community, we guide children to be responsible, virtuous Catholics who love others in God's name.
Purpose
Students at Immaculate Conception School attend Mass at least twice weekly and also participate in Adoration. We are a restorative school that integrates virtues in all we do academically, emotionally, and socially. Building a strong faith education is the foundation for all other learning at ICOM. Service to the community is a priority in our school and all students participate in this mission.
Quality
Immaculate Conception offers a rigorous curriculum from preschool to eighth grade with faith integrated in every subject. Beyond our certified teachers being truly invested in what is best for each student, we have a learning consultant, classroom aides, and a counselor. Some of our additional academic opportunities are Math League, Speech Team, and Scholastic Reading Counts.
Dynamic Community
ICOM is a welcoming community that offers many opportunities to our students and family. ICOM has a very active student ambassador program and virtue education student team which encourage students to participate in the life of our school outside of the regular classrooms instruction and to foster a sense of pride in our school. Our parent organization plans many activities that promote fellowship among our community.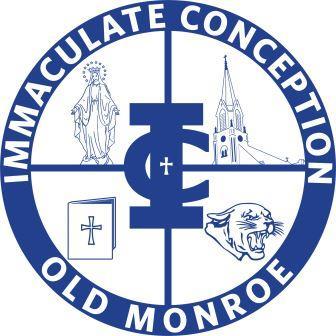 Statistics
Full Time specialty teachers: Music, P. E., Computers, Academic Support
293 combined years of teaching experience
16:1 student to teacher ratio
120 Maryknoll Road
Old Monroe, MO 63369
United States