I am truly excited and immensely grateful to be given this opportunity to serve the Queen of All Saints School community. I have been blessed throughout my career with opportunities in educational instruction and administration that have taken me into very diverse learning communities, working in various roles with both challenging as well as high-performing schools across numerous states. It is from this experience that I can whole-heartedly say that QAS is one of the finest schools in which I have been able to serve. There are many factors that research indicates make an effective school environment for children and QAS has all those factors from energetic, visionary parish leadership to a deeply compassionate, committed and knowledgeable teaching staff, well-articulated curriculum and a positive, supportive community. I believe God has brought me here and rewarded me with the opportunity to serve here.
Mrs. Ann Bender
Principal
Mission
Queen of All Saints School is a Catholic elementary school that lives the mission of Jesus Christ while recognizing and nurturing each student's special gifts and human potential to be life-long learners in the global community. We strive to create a Christ-centered environment that fosters respect and service opportunities for each member of our community. In so doing, we provide a caring and safe atmosphere with a wide range of academic and faith-filled activities to maximize student growth and development as Catholic Christians.
Purpose
Our students develop a strong heart and mind for God through a large variety of faith activities including daily all-school prayer three times a day, attendance at week day Mass twice a week, numerous community service projects, daily religion classes and a strong sense of community that projects and nurtures our faith.
Quality
Queen of All Saints is a learning community that provides individualized education by identifying and addressing the specific needs of each student in the core subjects while also providing enrichment opportunities through project based learning, gifted education and Project Lead the Way classes. Specialty classes,as well as field trips and service projects outside the regular school environment further enhance our educational programs.
Dynamic Community
At Queen of All Saints, students are provided learning opportunities that allow them to collaborate with others in finding creative solutions to emerging challenges, use critical analysis for assessing the veracity or bias and the current or potential uses of technology, communicate openly, and extend learning beyond the classroom.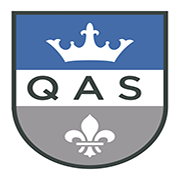 Statistics
Enrollment increasing 5-6% the last 3 years
Standardized test scores higher than the national average in all tested areas
100% of graduates are accepted into the high school of their choice.
K-8 competitive academic curriculum which also includes Spanish, Computer Science, Music, Art, PE/Health, & MakerSpace (Upper School curriculum also includes Genius Hour and Project Lead The Way courses of Automation & Robotics, Design & Modeling, and Medical Detectives).
STAR Reading/Guided Reading and STAR Math/Guided Math programs track every student's individual reading and math progress to determine individual academic needs and positively affect student growth.
Recognized by Governor Nixon in November, 2016 for being one of only twenty schools in Missouri to offer PLTW STEM courses to all students.
6611 Christopher Drive
St. Louis, MO 63129
United States