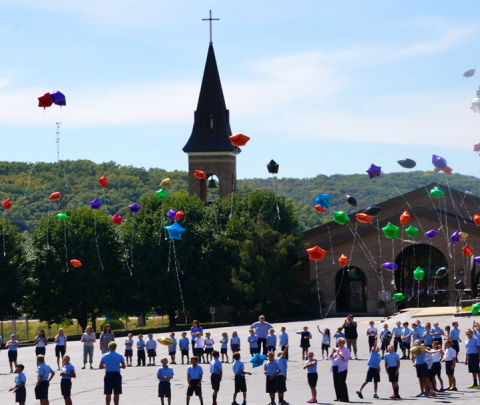 At St. Agnes School, we strive to ensure that all students have a joy of learning, an excellent faith-foundation, and the confidence to pursue academic excellence. We are firmly invested in Catholic education and believe that we are all called to use our God-given gifts and talents to spread the good news of our faith to others. We believe in the collaboration of faculty and parents to assist our students to be the best they can be as people and as Catholics. We believe that when leaders, parents, and teachers are excited about education, the students will swiftly follow this joy of learning. Joy is contagious! "As each has received a gift, use it to serve one another, as good stewards of God's varied grace." (1 Peter 4:10)
Ms. Michelle Otte
Principal
Mission
Our Mission: The community of St. Agnes Catholic Elementary School creates life-long learners who exemplify the teachings of Jesus Christ.
Purpose
Through celebration of their first sacraments (Reconciliation, Communion, and Confirmation) to celebrating weekly Eucharist at Mass, the students at St. Agnes of school are shown Christ's light within their daily lives at St. Agnes School. Our students learn to be good stewards through service, and learn how to spread the good news and God's joy to others.
Quality
Students are held to high academic standards. The faculty and staff at St. Agnes School strive to facilitate learning that will help our students reach their academic goals as well as to surpass those goals. Academic achievement is important to our school community. Our student body scores in the above average range in standardized testing, in the top 20% in this testing in Language Arts, and in the top 30% in other subjects.
Dynamic Community
The St. Agnes community wants to welcome you to our family. We would be happy to greet you and show you around our school. Our families build community through many school events: Trunk or Treat, Father Daughter Dance, Mother & Son Race, and Family Bingo Night. We also work together (and enjoy) our fundraising events such as our Trivia Night or our Auction. Come build the family of Christ with us!
Statistics
St. Agnes has a 1:13 teacher to student ratio.

112 students are enrolled at St. Agnes.
St. Agnes offers aftercare.
Our students have 1:1 access to Chromebooks, laptops, desktops, and other technology in their classrooms.
We have many after school clubs including Bellarmine Speech, Art Club, and Spike Prime Robotics.
St. Agnes offers volleyball, soccer, and basketball.
30 St. Agnes Drive
Bloomsdale, MO 63627
United States