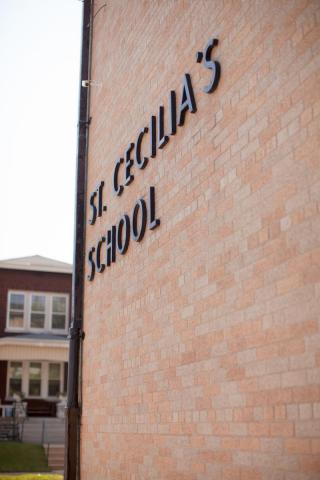 The students and staff at St. Cecilia Grade School and Academy are committed to education for the glory of God. We emphasize the following values: Catholic Community- We bring glory to God in sacrament, prayer, and all that we do. Differentiated Learning- We are committed to growth in a diverse learning environment. Compassionate Relationships- We respect and honor the image of God in all we meet.
Mrs. Emily Roth
Principal
Mission
St. Cecilia School and Academy, in partnership with families, provides students an excellent Catholic education where each child can develop spiritually, intellectually, and socially for the glory of God.
Purpose
Our students and staff can be found glorifying God through weekly mass, classroom prayer circles, regular practice of confessions, and daily prayer as a whole school. We offer retreats at every grade level and provide opportunities for student spiritual leadership.
Quality
Our students learn to think critically in our academic programming, most notably in the use of our Makerspace. Students are seen working intently to build, create, design, and solve problems. We also offer a literacy block founded on Guided Reading. This program includes small group as well as whole group instruction and texts at each student's reading level so they can develop the confidence and skills they need.
Dynamic Community
We offer enrichment programming for all grade levels including Mosaics, Speech, Dance, Hispanic Culture, Robotics, STEM, Mad Science, Sculpture, Drumming, Yoga, as well as CYC sports.

Statistics
88% of St. Cecilia students identify as Catholic
100% of students receive individualized graduate support services throughout middle school and high school
Our 1st grade class improved their reading skills by 1.5 grade levels in just one year.
4,180 total alumni to date
906 Eichelberger Avenue
St. Louis, MO 63111
United States