Thank you for your interest in St. Gertrude School. Through the Grace of God and the steadfast support of our Parish/School Community, we provide an excellent educational experience to the families we serve. Our charming little school offers a very extensive academic program while retaining the feel of a close-knit parish community.
We offer a vibrant religious program that includes:
weekly all-school liturgy;
daily Religion classes;
strong Sacramental preparation program;
RCIA Program for the children and parents;
a service program that places an emphasis on outreach to the less fortunate; and
a Prayer Chapel inside the school building.
We strive for academic excellence through:
a dedicated, faith-filled faculty and staff;
strong core subject program;
Religion, Math, Language Arts, Science and Social Studies;
high achievement scores on the Iowa Test of Basic Skills;
special classes that include Computer, Physical Education, Art, Music, and Library;
Speech Club, Cougar Cast (news show), and Student Council;
a Mobile Chromebook cart, computer room, Chromebook lab, Smart Boards in K-8, and a WiFi accessible campus; and
sports programs, including basketball, golf, volleyball, and archery.
Our excellent facilities are overseen by a dedicated and highly skilled maintenance staff. We have meticulously sculpted grounds ("God's 40 Acres"), a beautiful, modern gymnasium and cafeteria, updated playgrounds for Pre-K and Grades K-4, and an enclosed field that offers baseball, volleyball, soccer and tetherball to the upper grades.
When looking for an excellent school, please consider setting up an appointment to visit our fine school. We would love to show you all the great things happening here.
Mrs. Pam Sheible
Principal
Mission
"Forming Future Saints As We Welcome Disciples Home"
Purpose
St. Gertrude Parish/School is a (Preschool through 8th grade) destination of choice because of its reputation for forming wholesome, good natured children who exhibit a love for the Church and all of its' works. Weekly Mass attendance, an excellent Sacramental program, daily Religion classes, and service requirements to our greater community, help our children to form relationships with God and others that flourish.
Quality
Our academic programs strive to challenge students to reach their potential. We offer a comprehensive curriculum,including:
Core subject areas of Religion, Reading/Literature,Mathematics, Science, and Social Studies;
Special subject areas of Physical Education, Art, Keyboarding, Library, and Music; and
Other services that include Title Services, Regional Math Competition (6-8), Challenge Program (3rd-6th), Spelling Bee, Geography Bee, Altar Servers, RCIA, Sacramental Programs, Lunch Program, Before and After Care (SKIP), Summer Program and Vacation Bible School.
Dynamic Community
Clubs: Cougar Cast (newscast), Bellarmine Speech, Basketball (boys/girls), Volleyball, Golf Club, and Archery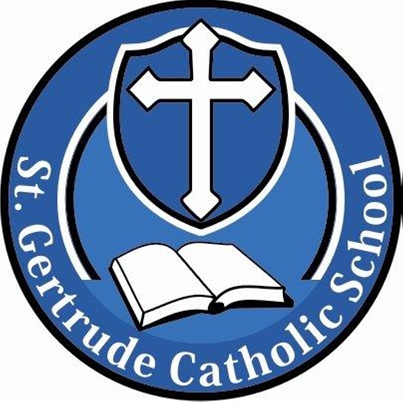 Statistics
11:1 student to teacher ratio
205 students enrolled for 2020-2021
Faith Tradition at St. Gertrude School: 83% Catholic & 17% other
2 Chromebook carts, 1 iPad cart, and a full computer lab
6520 State Road YY
Washington, MO 63090
United States