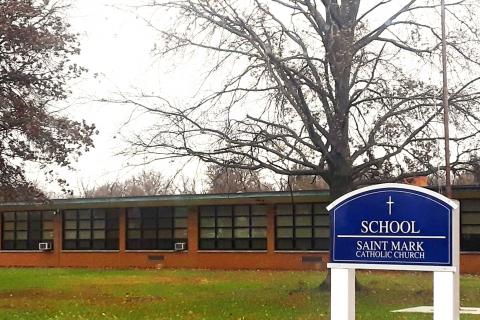 Welcome to St. Mark Catholic School, where we are dedicated to educating our young people to become respectful, responsible Christians who go forth to serve. You will find St. Mark to be a caring, Christ-centered community focused on the development of the whole child. It is with great enthusiasm that we invite you to become a part of our community, who celebrates their faith daily while striving to achieve their fullest potential. We encourage students to ask real-world questions, collaborate with peers, and arrive at meaningful conclusions. In addition, we recognize the need for a comprehensive, well-rounded curriculum to guide each student to live out their potential. Our students are given not just the knowledge and skills they will need to prosper in tomorrow's world, but also the faith and virtues that can make them men and women of outstanding character. The faculty and staff of St. Mark are caring individuals who strive to instill a thirst for knowledge in their students. All staff are invested in the success of each student and encourage their individual talents, interests, needs, and gifts. St. Mark believes education is a partnership between school and home.
I encourage you to visit our school and let us meet your family. On behalf of the entire parish, we look forward to having your family become a vital part of our school community. God bless you and your family.
St. Mark, Pray for Us!
Mrs. Julie Bingham
Principal
Mission
St. Mark Catholic School is dedicated to educating our young people to become respectful, responsible Christians who go forth to serve.
Purpose
St. Mark helps students develop heart and mind for God by starting each day with prayer. Prayer services and weekly Masses are prepared by the students. Students organize and participate in service projects to assist those in need. Prayer Families build community, strengthen our relationship with God and others, and immerse students in faith based service projects. Attitude, service, and daily decisions are based on Catholic virtue and morality.
Quality
We strive to build strong foundational learning skills through a structured environment that will help students individually as they grow and mature. The elementary classrooms focus on student centered learning emphasizing reading, writing, and math. The middle school program focuses on providing structure and guidance while fostering leadership skills, academic autonomy, and encouraging students to serve and be knowledgeable of their world in which they live.
Dynamic Community
St. Mark believes learning goes beyond the classroom and can involve the entire family. We offer a wide variety of extracurricular activities to encourage students to explore interests. These activities contribute to a positive school climate and individual growth. Participation in extra/co-curricular activities teaches students the value of teamwork, self-discipline, hard work, physical and emotional development, and a sense of community and belonging.
Statistics
School enrollment of 185 with a student to teacher ratio of 15:1
Dedicated preschool with full time teacher assistants
Technology enhanced classrooms (SMART Boards, IPads, Middle School uses 1:1 Chromebook)
Middle School elective program
Full time Special Education certified Learning Consultant
Music, Physical Education, Art, Spanish, Computer in every grade.
4220 Ripa Avenue
St. Louis, MO 63125
United States