St. Pius X High School has a long tradition of working with students who are committed to their future. St. Pius X lives up to its reputation of challenging students to better themselves in mind, body and spirit through our college preparatory academic program, spiritual opportunities and emphasis on overall wellness.
As the Principal of St. Pius X and an alum, I am extremely proud of the dedication that comes from our faculty, staff, coaches and leadership. They focus on each student as an individual and know every person is unique and has different ways of learning. Not only do Lancers graduate with a strong academic acumen, they also live out the "St. Pius Way". Skills such as communication, leadership, problem solving, and inter/intrapersonal skills are developed along with academic ability. Our House System, Lunch Hour, days of prayer, and retreats allow St. Pius X students to grow socially, emotionally and spiritually.
As the only Catholic high school in Jefferson County, St. Pius X has a unique sense of community and a strong mission. "Lancer for Life" is what our community lives by. There is a high level of support for each other, the surrounding community, St. Pius X High School, and most importantly our faith, allowing our alumni to live out the mission of Pope Pius X throughout their lives. The longstanding reputation of a St. Pius X graduate allows for continued growth and success after high school.
We welcome anyone seeking the opportunity to be a part of the great community and experience what it means to be a Lancer!
Mission
St. Pius X High School is a Catholic community dedicated to the education of the whole person, in an environment where extraordinary care and concern for the individual is ordinary.
Purpose
We at St. Pius X High School embrace the tradition of spiritual, intellectual and human formation for each student. Through the formation in and practice of our Catholic faith, we lead students to discover that God's revelation offers every generation the opportunity to discover the ultimate truth about his or her own life.
Quality
St. Pius X students understand and develop individual learning styles in order to participate in the enjoyment of lifelong learning for mind, body, and soul. They communicate ideas and opinions effectively, clearly and concisely. They embrace a rigorous approach to learning, while connecting academics to relevant world applications. We are proud of our status as a school available to students of varying academic abilities seeking a Catholic education.
Dynamic Community
The St. Pius X House system, introduced in 2016, provides a welcoming community by providing a built-in system of mentorship and accountability for all students. Student support from staff counselors includes time with Brandy, our in-house therapy dog - a student favorite! College counseling begins the first week of freshman year and continues through the final selection process, including six school sponsored college visits.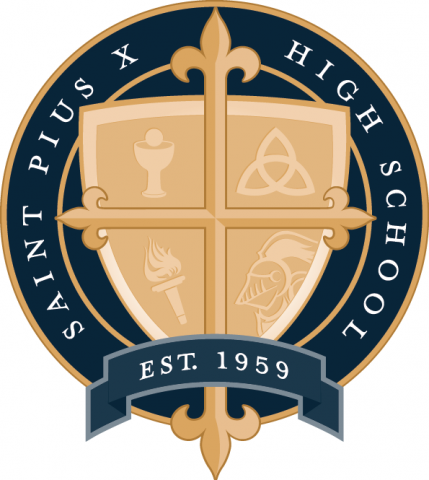 Statistics
Average ACT 23; Average ACT Top 25% of 2018 graduating class: 29.4; Top 50%: 27.1
85 college representative visits per year
Student: Teacher Ratio 12:1
$503,000 in financial aid distributed last year
693 Program: 6 trips to 9 colleges in 3 years, paid for by Parent Club
1030 St. Pius Drive
Festus, MO 63028
United States