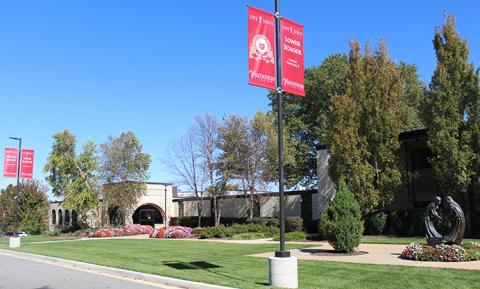 Visitation encourages students to develop their unique gifts in an environment that values excellence in scholarship, spirituality, leadership, and service. Visitation has the area's only all-girls program for Grades 1-12. We understand the ways girls learn and create an educational experience that promotes curiosity and free expression, builds confidence, and allows students to, in the words of St. Francis de Sales, "be who you are and be that well in order to give glory to the Divine Artist whose handiwork you are." Viz girls are poised, intelligent, and self-assured young women, positioned for success in our classrooms, in college, and in life.
The school's history and tradition are rooted in its Catholic and Salesian identity, but Visitation is going places. Viz is committed to progress and improvement as well as ensuring students are prepared to bring Salesian values into a world that needs them so much. The continued presence of the Sisters provides Visitation with a faithful connection to its identity. Their stewardship of the school's Salesian identity impressed me; the opportunity to learn from them is a truly unique opportunity.
There are many reasons why I love being part of the Viz community, but I keep coming back to one overwhelming thing. During all my interactions with members of the community, I felt a sense of being at home. I encourage you to visit us, talk with our Admission team, and experience it for yourself.
Mr. Terry Murray
Upper School Principal
Mission
Visitation Academy is a community that exists to educate children and young women and to receive and share Jesus as Mary did in her visitation to Elizabeth. In an environment which values excellence in scholarship, spirituality, leadership, and service, this Visitation Community encourages students to develop their unique gifts. As students learn to live Jesus with gentleness, humility, joy and freedom, they are prepared to continue to grow and to respond to others, the Church, and the global community.
Purpose
Our motto, "Live Jesus," calls students to reflect the life of Jesus in their daily interactions. Visitation is rooted in the Catholic faith and strengthened by the Salesian spirituality inspired by St. Jane de Chantal and St. Francis de Sales. The writings of these saints unite a love of the truth with the pursuit of knowledge and the dedication of one's God-given gifts to make the world a better place.
Quality
A Visitation education equips young women with the knowledge, virtues and skills to thrive in the world ahead. Across all schools and departments, faculty members know our students by name and share a focus on their engagement with our curriculum. We understand learning doesn't only happen in the classroom, and we are invested in a student-first approach that emphasizes creativity and problem-solving skills students can rely on for a lifetime.
Dynamic Community
Our mission statement recognizes each student is blessed with unique gifts and they are encouraged to discover those gifts and live their spirit. We offer a vibrant fine arts program, diverse entrepreneurial studies, an inclusive yet competitive athletics program, and numerous extracurricular clubs and activities including robotics, Youth in Government and National Honor Society to name just a few. Students have abundant opportunities to flourish and reach their full potential.

Statistics
539 - Total Student Enrollment,
Age 2 - Grade 12
6:1 - Student/Teacher Ratio,
Grades 9-12
The area's only all-girls program for grades 1-12
75% of our young women play at least one sport each year, with 50% playing two or more
3020 North Ballas Road
St. Louis, MO 63131
United States