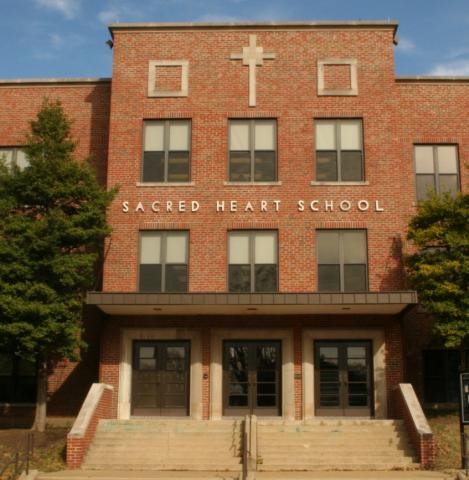 On behalf of the faculty, staff and students welcome to Sacred Heart Catholic School! As you will quickly see, we are extremely proud of our school that has provided a strong Catholic foundation for over 150 years to generations of families in Old Town Florissant. We are a wonderful collection of people committed to educational success. We are the heart of family: supporting parents in their role as the primary educators in knowledge and faith. We are the heart of learning: educating the whole child by addressing individual needs, talents, and abilities. We are the heart of achievement: nurturing individual achievement and fostering personal holiness in a safe, loving environment. We are the heart of service: preparing students to be active,Christian witnesses in service to others. with that in mind, we ask you to join us in making a positive difference in the lives of our students. We welcome all families who are seeking a faith-based education and look forward to the opportunity to meet you and your children.
Mr. Chris Masterson
Principal
Mission
Sacred Heart Catholic School exists to provide a quality, faith-centered, Catholic education in a safe, loving and welcoming environment that will enrich the lives of our students and support parents as their first teachers.
Purpose
We help students develop the heart and mind of God first by being respectful of each individual person. All the students attend religion class daily, go to Mass twice a week, have special activities during Advent and Lent and attend weekly adoration. All the students are expected to do some kind of service either for the school, parish or community. They live their faith through this service to others.
Quality
According to our parents and alumni, the highlight of our school's academic quality is our religion program. Our emphasis on spirituality helps to develop students who graduate with a well rounded, strong moral compass. We are strong in English, Literature and reading as well as Social Studies.
Dynamic Community
We ensure a welcoming community by inviting the new families to an informational meeting, having new students shadow for a day and offering new families a current family as a mentor. We offer a variety of activities: Middle school students are involved in a musical, we offer chess club, robotics, Mad Science, Lego classes and Student Congress. Our students do service in the community in a variety of areas to help them experience life outside of the classroom.
Statistics
Stable enrollment of over 300 for the past 20 years
Safe learning environment
Community financial support for the school
Strong faith-based service activities
501 St. Louis Street
Florissant, MO 63031
United States