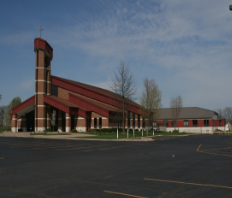 Dear Sacred Heart Families,
I welcome you to Sacred Heart School! Our school has been serving the families of Lincoln County since 1944. We continue to offer high quality Catholic education with our foundation in Jesus Christ and His Church. Our students are prepared for a life of Christian service through education in virtue and its practical application to real life. A strong focus on high quality academics ensures the success of our students as they move beyond the elementary school setting to high school and beyond. Our teaching faculty and staff are dedicated to the vocation of teaching and service. At Sacred Heart, your child will be warmly welcomed into our family atmosphere and find a place to belong. Give us a call and come for a tour to see what makes Sacred Heart the Heart and Soul of Lincoln County!
Mr. Sam Plummer
Principal
Mission
The mission of Sacred Heart School is to assist parents as the primary educators of their children in respect, excellence and discipline following the teachings of Jesus Christ and the Catholic Church.
Purpose
Students develop a heart and mind for God through the living practice of the Catholic faith in worship and service. Religious education is woven through every aspect of school life. Sharing our own faith journeys makes our faculty authentic witnesses to love for God and others.
Quality
Sacred Heart School sets high standards for students' academic achievement using a challenging curriculum supported not only by textbooks but many resources as well. Students' learning is enhanced through the use of hands on materials and experiences. Graduates of Sacred Heart School report that they succeed in high school and life.
Dynamic Community
Faculty and staff welcome all students to Sacred Heart School, developing close working relationships with them and their families. Students gather in Faith Family groups to pray, study virtues, work on projects together and just have fun. Attending All School Mass and school wide functions bolsters the welcoming community that is Sacred Heart School.
Statistics
17 to 1 student to teacher ratio
Archdiocese of St. Louis Principal of the Year awarded to Mrs. Ann Hoffman
Golden Apple Teacher Mrs. Laurie Clarkson
Complete technology lab with technology instructor
Preschool program for ages 3, 4, and 5
Numerous after school programs including CYC sports and clubs
110 Thompson Drive
Troy, MO 63379
United States