St. Clare of Assisi School welcomes the opportunity to meet with families as they seek the best educational program for their child. Our nurturing environment, along with a challenging and engaging curriculum, develops students both spiritually and academically. The day school offers faith formation, core curriculum, fine arts and physical education, middle school elective classes, and STREAM curriculum goals. In addition to our day school classes, St. Clare of Assisi offers preschool programs for 3 and 4 year old children, on-site aftercare, clubs, and CYC sports. We hope that you will visit our innovative campus to see us in action!
Mrs. Janet Kromraj
Principal
Mission
Enriched by our Catholic tradition, St. Clare of Assisi School educates the whole child spiritually and academically, recognizing and encouraging each individual's unique gifts. Our school community is committed to proclaiming the Gospel of Jesus Christ in all our words and actions, nurturing community within our parish.
Purpose
St. Clare of Assisi School is committed to developing children who love and serve God and His community. We recognize each child as a unique gift from God; through Him, our students develop holy habits, live Catholic values, and are dedicated to serving others.
Quality
St. Clare of Assisi School offers a challenging curriculum, incorporating core subjects with specialty and enrichment classes. Valuing the dignity of the child, each with unique talents and abilities, we encourage full academic success and spiritual development of all students.
Dynamic Community
St. Clare of Assisi School strives to empower students through faith, knowledge, and servant leadership. Students participate in extracurricular clubs, elective classes, and social justice projects to nurture talents outside of the traditional classroom. Recognizing each child's individual needs, we provide differentiated curriculum opportunities so all students can achieve success.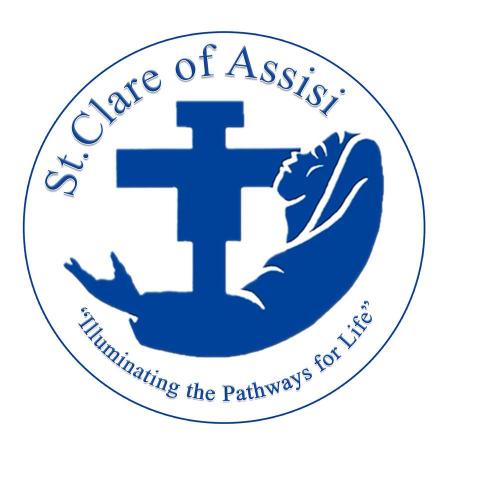 Statistics
240 students in grades PreK through 8th
17 to 1 student/teacher ratio
Our students consistently score in the top 15% of schools nationwide on standardized tests
iPad and Chromebook carts for grades PreK-4
1 to 1 Chromebook technology in grades 5-8
15668 Clayton Road
Ellisville, MO 63011
United States