Thank you for your interest in St. Francis of Assisi School in Oakville, Missouri, serving students in grades Preschool through 8. At St. Francis of Assisi (SFA), you will experience that which is academically excellent and passionately Catholic. St. Francis offers resources that you normally find only in large educational settings, yet in a family-like atmosphere. Specific examples are described below. Our smaller student body allows for more personalized learning, while our large campus allows for more options and innovations. Our stellar faculty and immense ancillary staff provide the support and innovative practices needed in today's learning environment. Special spaces and programming are provided for preschool and middle school students during these unique developmental stages, yet they take place within the context of one school community! This provides the best response to need, accountability, and community. With scholarship options from both the Archdiocese and from St. Francis of Assisi itself, an excellent Catholic education is now in reach of more families. I personally invite you to visit St. Francis of Assisi to see how you and your family can have more than just an excellent education; you can have a transformational experience. Call or visit today!
Elizabeth Bartolotta
Principal
Mission
In keeping with the Franciscan tradition of intellectual inquiry and spirituality, St. Francis of Assisi School is committed to academic excellence and continuous growth in Catholic faith.
Purpose
Students attend Mass each school day, bringing a prayer box of intentions so they can be less anxious and more engaged. Students lead prayer, engage in regular retreat experiences, minister in various ways at Mass and take part in meaningful service opportunities. Our Catechesis of the Good Shepherd atrium provides Montessori-based hands-on faith formation for students ages 3-9. All students engage in age-appropriate project-based learning opportunities to help them discover their God-given gifts and talents.
Quality
Our excellent academic program provides tiered learning for different levels of need. A learning consultant and two early interventionists meet students where they are and assist teachers and aides to target learning needs. Global educational partnerships, state-of-the-art technology, specialty subjects and electives, interdisciplinary project based learning (STEM/STREAM) opportunities, and leadership roles provide continuous motivation and learning for all.
Dynamic Community
By providing teacher mentors, parishioner mentors, older student-younger student "buddies", "school family" experiences, many electives, and various enrichment options, St. Francis has something for everyone. Our community garden, multiple clubs and electives enrich the experience of students. Genius Hour, X-STREAM night, robotics, speech, cheerleading, SFA Broadway, Mini Vinnies, Life Runners, Student Council, Drama Club, Student Ambassadors, and National Jr. Honor Society provide additional avenues of enrichment.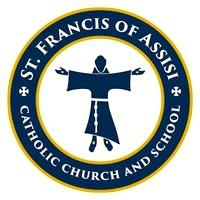 Statistics
K-8 13:1 Student to Teacher Ratio
Preschool 10:1 student to teacher ratio
$50,000 in Scholarships to SFA families from Beyond Sunday
$22,000 in Scholarships to SFA families from the Francis Fund
Average class size K-8 is 23 students
SFA Graduates 100% acceptance into the high schools of their choice
1:1 Chromebooks in grades 6-8
4550 Telegraph Road
St. Louis, MO 63129
United States