If you visit our St. Francis Borgia High School, I can almost assure you that you'll hear us refer to our school as the "Borgia Family." While it may sound a bit cheesy, there's really no better way to describe the bond we have here. Something special about our family is that we have the opportunity to worship, pray, and grow in our faith together. Faith is at the center of all we do. We are committed to serving others and foster a community of kindness and acceptance.
We take pride knowing we are a part of the Borgia Family. When a student receives high praise for an assignment, receives a scholarship, or is accepted to a college they've dreamed of, we celebrate right along with them. When someone finds success in one of our many clubs, sports, or musical or theatrical productions, we cheer them on. When one of our kids excels on the court, field, or course, we all win.
The Borgia Family truly is something like no other; I have difficulty describing it in words. I invite you to come join us for a shadow day or to sit down with our faculty and students. Experience the Borgia Family for yourself.
Mrs. Pam Tholen
Principal
Mission
Our mission is to provide a Catholic education that fosters spiritually, morally, academically and technologically prepared lifelong learners.
Purpose
Students develop a heart and mind for God through service to others, extensive retreat programs, Theology classes, daily prayer as a school and in individual classes. President Fr. Kevin Schmittgens celebrates weekly and monthly Masses, Eucharistic adoration, and reconciliation. We incorporate gospel values into our lessons. Students know God through his word in both the Old and New Testament, morality teachings, ecumenism, and an understanding of our church and sacraments.
Quality
St. Francis Borgia meets all student needs. We offer a large number of vigorous electives, challenging coursework through 81 hours of either our AP classes or 1818 advanced college credit program. We provide a learning consultant for students needing extra support, and a strong guidance staff complete with a college specialist. Graduation requirements above state and national levels. Majority of faculty with advanced degrees and experience.
Dynamic Community
St. Francis Borgia loves the communities we serve! We are a Borgia family, and we invite students to our campus for programs such as Healthy Lifestyles, Open House, Luke 18, summer camps, Mass and More (teen Mass open to the community), Homecoming events, joint regional elementary band concerts, theater performances, 8th grade math enrichment program, Tutoring Tuesdays, and a strong working relationship with area Vocational Technical school that gives training in specific areas.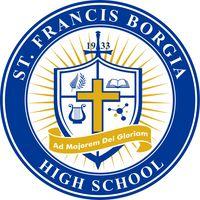 Statistics
15:1 Student to Teacher ratio
Total value of scholarships awarded for 2018 seniors was $8,800,000.00.
Tuition assistance provided to approximately 59% of families.
State of the art STEM (Science, Technology, Engineering, & Mathematics) Lab with three 3D printers, laser cutter/engraver, drill press and band saw.
100% graduation rate with 99% pursuing post secondary education.
Bus service to specific areas provided.
1000 Borgia Drive
Washington, MO 63090
United States