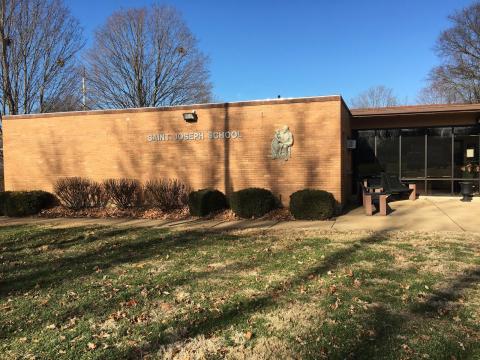 Welcome to St. Joseph Catholic School. We are committed to forming a community where the students' faith is nurtured, supported, cultivated, and enhanced through the Mass, the worship of God, and the seven sacraments. The school community also gives witness to our faith by the many acts of service.
Although we strongly believe in academic excellence, we also feel that learning must be fun and rewarding for each child. Please realize that the St. Joseph staff will not be able to accomplish this task alone; we need your support. Parents/Guardians are always welcome at our school. We view parents/guardians as equal partners in providing our children with meaningful educational experiences. Further, we encourage you to become active participants in school programs and classroom activities. There are many ways to support your child, such as volunteering to help in the classroom, lunchroom, library, or in one or more of our many school programs. I encourage everyone to join the Home and School Association (HASA). Among the most significant contributions parents/guardians can make to the educational progress of their children is to read to them at home, make sure there is an appropriate and quiet study space for them with sufficient time to do homework, as well as to be available to assist them with more difficult homework assignments when necessary. As a result of your involvement, your child will see you as a significant other who truly values the educational process. By working together, students, parents/guardians, and staff can make St. Joseph an exciting and enjoyable place to learn.
Dr. John Boyd
Principal/Preschool Director
Mission
St. Joseph Catholic School strives to place Christ at the center of all we do …
By educating children in matters of faith and knowledge,
By working together with parents, the parish of St. Joseph, and the entire community,
By providing students with a fulfilling and innovative educational experience, for their spirits, minds, and bodies,
By developing a strong sense of service, justice, and respect for self and others.
Purpose
We are called by Our Lord Jesus Christ, to be His church and live His gospel. We strive to fulfill our baptismal calling by prayer, worship, teaching and sharing our faith, and serving others. Guided by the Holy Spirit and through our patron saint, St. Joseph, we commit ourselves to the responsible stewardship of all God's gifts. To develop in each child a spiritual growth based upon a deep relationship with God.
Quality
To stimulate intellectual growth and to instill in each child the attitude that learning is a lifelong process. To foster the realization that intellectual development is an avenue to understanding of one's self and the surrounding world. To provide a quality academic program which is current and which is regularly evaluated for improvement and excellence.
Dynamic Community
To instill in each child a deep sense of social concern and an awareness that Christianity is not only knowing the faith, but involves living it in one's daily life. To develop in each child a paramount respect for the dignity of humankind and a realization of humanity's mutual interdependence. To encourage tolerance and understanding of all people and the willingness to sacrifice one's own time and convenience for the sake of another.

Statistics
34% of our students receive Tuition Assistance
109 students enrolled in grades K-8
33 students in Preschool - PreK
We have an average 13/1 average student to teacher ratio
Serving the Catholic Community since 1897 and accredited by the National Non Public School Accrediting Association
501 Ste. Genevieve Street
Farmington, MO 63640
United States