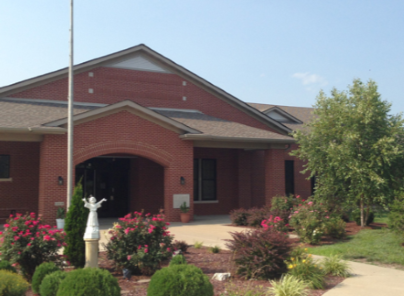 St. Joseph Catholic School is a pre-K through grade 8 school set in semi-rural St. Charles County. Our school community is very proud of its over 150 year history/tradition of Catholic education in Josephville. In August of 2009, we opened a brand new school. This modern facility offers state of the art technology but still retains its rural, small school charm.
We believe our small school setting gives the children a more personalized educational experience. Aside from the Core curricular classes of Language Arts, Mathematics, Religion, Social Studies and Science, St. Joseph's also offers Spanish, Computer, Physical Education, Art and Music to all grade levels.
St Joseph has a certified science teacher on staff who uses a hand-on, inquiry-based approach to teaching science topics.  Our full-time learning consultant works with students individually or in small groups to meet additional learning needs.  Our learning consultant is trained in the Wilson Reading System and uses this program to assist students.
At St. Joseph School we value the need to develop the 'whole child'. We offer many leadership and service opportunities to our students including: House of Faith and Works Virtues Program, Student Ambassadors, Safety Patrol, Flag Bearers and the Buddy System. All students grades K-8 are required to perform community service throughout the year as well.  Additionally we offer First Lego League after-school program to our students.
The Catholic faith and its Traditions are central to the identity of St. Joseph School. The children attend Mass daily and take part in the Sacraments regularly. Eucharistic Adoration is observed on a weekly basis and we pray an all school Rosary each month.
Come on out to Josephville and see us some time! If you listen closely, you might even hear the children running to the sound of an antique recess bell clanging in the distance.
Mission
The school family of St. Joseph, in partnership with our parents, is a visible Catholic faith community exemplifying the teachings of Jesus Christ. We foster spiritual growth and educational excellence, sending forth students to be images of Christ in our world.
Purpose
The purpose of our school is focused upon the spiritual development of each child. We encourage students to incorporate Catholic values into their daily lives by providing examples of Catholic living, expressions of faith and opportunities for meaningful community service.
We believe that the school should provide consistent opportunities for growth in faith throughout the liturgical year.

We believe that parents as first educators of their children are called to witness and model their faith and be supported in this effort by the school

We value the dignity of each child as a gift from God with unique talents and academic abilities. We encourage creativity, divergent thinking and skills needed to meet the challenges of a changing world.

We encourage a spirit of cooperation, mutual respect and responsibility to our school community.
Quality
St. Joseph offers core curricular classes in Language Arts, Mathematics, Religion, Social Studies and Science. Spanish, Computer, Physical Education, Art and Music are taught at all grade levels. Superkids®, our new K-2 reading program from the Rowland Reading Foundation, is a comprehensive program that immerses students into the language arts topics. We have a full-time Learning Consultant trained in Wilson Reading System.
Statistics
10:1 student:teacher ratio
Daily Mass and religious instruction in class
1410 Josephville Road
Wentzville, MO 63385
United States