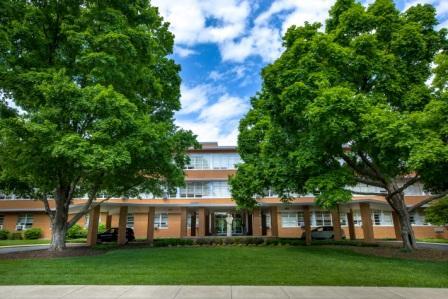 We are grateful for your interest in learning more about a St. Joseph's Academy education. We are a Catholic college preparatory high school for girls centrally located off of Highway 64 and Lindbergh Boulevard. Our young women are challenged to grow academically, in their faith, and explore their gifts and talents to become their most authentic selves in preparation to go out and make a profound impact in the world.
Founded by the Sisters of St. Joseph of Carondelet in 1840, the community of St. Joseph's Academy is guided by the Sisters' charism to live in right relationship with one another and "serve God and the Dear Neighbor without distinction."  With this calling, we foster a welcoming school environment where students can take rigorous college-level course work, develop broad perspectives in unique courses to the Academy, run a business, join a robotics team, explore their creative selves, help plan a liturgy and join together in prayer.  Our legacy of excellence can be found in many areas of student life: in the classroom, on the field, on the stage, and in our new College Advising and Resource Center.  St. Joseph's Academy students are educated by caring faculty who motivate young women to think critically and creatively, while being free to be themselves.
Come visit us to experience the spirit of our school motto, "Not I, but We."
Jennifer M. Sudekum, M.Ed.
Principal
Mission
St. Joseph's Academy is a private, Catholic high school for girls in St. Louis, Missouri, sponsored by the Sisters of St. Joseph of Carondelet. Our mission is to provide quality Catholic education for young women in an environment that challenges them to grow in faith, knowledge, and respect for self and others. Our community expects these young women to make a profound impact in the world.
Purpose
We offer a full range of courses in religious studies, which empowers each student to have a spiritual journey in exploring her faith. • We maintain a spiritual environment through prayer, school liturgy, campus ministry, sacraments, retreats and service to other. • We are connected to the CSJ charism in all that we do. • New Campus Ministry space is in the heart of the school- inclusive and inviting for all. • Seven Faith-based clubs and organizations.
Quality
• Rigorous college prep curriculum develops values-driven leaders. • Students challenged to achieve excellence in a broad range of disciplines. • Holding students to high standards is key to our success. • 36 college credits available • 42+ Honors/AP/ACC/ACP courses • 100% accepted to colleges/universities • 91% take at least one college credit course • 9 Computer Science and Engineering Courses • Hand-on experiences running a business through student-run coffee shop • New College Advising & Resource Center • 78% of teachers have advanced degrees
Dynamic Community
• "Freshman Experience" course inculcates school's mission and values. • 50+ clubs and organizations (Clubs, Athletics, Performing Arts) • Diversity Club and Diversity Coordinator • Weekly Community Time assembly brings community together to celebrate one another. • "#1 Club" for students without grade school peers • Student Success Center offers peer tutoring • SJA Cultural Norms provide framework for engaging in courageous conversations, laying foundation of "right relationships" within the charism of the Sisters of St. Joseph and our culture of Not I, But We.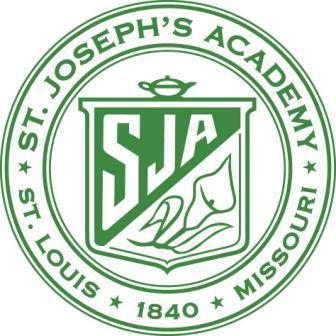 Statistics
$4,000 Awarded Every Year to Each Presidential Scholarship Recipient
11:1 Student to Teacher Ratio
99% of Students Take STEM Electives
10 Honor Societies on Campus
50+ Community STEM Partners
9 Computer Science and Engineering Courses
2307 South Lindbergh Boulevard
St. Louis, MO 63131
United States