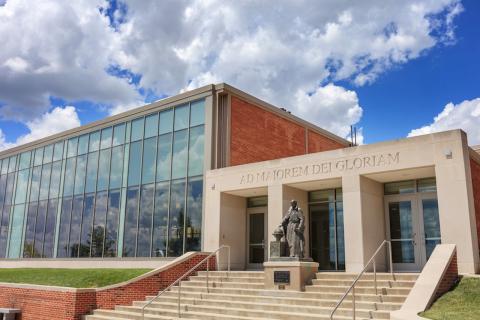 Dear Students and Parents,
Greetings from St. Louis University High School, the oldest school west of the Mississippi River. Our students often say, "At SLUH, it's cool to be smart!"  While this is certainly true, being smart isn't the limit of our formation program. For example, at SLUH we feature:
• Project-based learning with innovation labs and endless outlets for creativity
• An international program featuring seven languages and global travel to four continents
• 19 sports programs with four state championships last year
• Dozens of clubs offering activities ranging from coding, cooking, outdoor adventures, community service, and campus ministry
• Daily Mass, weekly class prayer services, annual retreats, and four years of theology
• Fine Arts programs that include over a dozen music groups, three annual theater productions, and art creation opportunities of many forms
• Brand new science labs and collaborative areas
• Access to the riches of Forest Park, the museum district, and university partnerships.
As you can see, SLUH offers a wealth of opportunities that will open your life to possibilities far outside your imagination. With our students coming from over 100 zip codes, multiple nations, and diverse backgrounds, you will be transformed by the friendships and brotherhood at SLUH. Here we form the Catholic Christian leaders of tomorrow, and we'd love to show you how. Please come visit us and together let's begin to dream big about your future! We look forward to seeing you soon!
Fr. Ian Gibbons
Principal
Mission
We are a Catholic, Jesuit college-preparatory school for young men, committed to our presence in the City of St. Louis and dedicated to building Christ's kingdom of truth, justice, love and peace. We serve young men based on their ability to succeed, rather than their economic circumstances. Through a rigorous academic program, we help our students develop critical minds and a life-long devotion to learning that informs moral choices and transforms lives. In addition to assisting in the intellectual, aesthetic, social, and physical formation of our students, we help them develop compassionate hearts by fostering habits of personal prayer, reflection, and service for the Greater Glory of God.
Purpose
As a Jesuit high school, SLUH is a part of the 500 year Ignatian tradition of empowering young men to set the world ablaze for God. We participate in Christ's mission through prayer, study, the sacraments, service, and a lifetime of faith in action. Jesuit students are reflective, grateful, empathetic, and hopeful. In God, all things are possible. Through their SLUH experiences, our graduates are prepared to serve as men for others.
Quality
SLUH graduates have a tremendous Jesuit academic preparation. By intersecting the liberal arts and STEAM project learning, students are prepared for a life of inquiry, professional success, and endless opportunities. Comprehensive electives allow students to specialize in subjects they choose. Opportunities for internships, travel, and adventure add a world of experience. Students score highly on standardized tests and gain admission to some of the most competitive universities in the world.
Dynamic Community
Coming from over 100 zip codes and middle schools, our students have a global vision. We offer 200 years of history, partnerships with hundreds of Jesuits schools in dozens of countries, and high expectations for our young men. Our students find a loving and nurturing educational home at SLUH. The friendships, support systems, and broadening experiences found here will help forge confident graduates capable of tremendous success.

Statistics
$4.1 million in financial aid awards for the 2018-19 academic year
4 in 10 young men receive financial aid
SLUH students come from 168 different grade schools
SLUH students represent 86 different zip codes
SLUH is a National Blue Ribbon School
4970 Oakland Avenue
St. Louis, MO 63110
United States