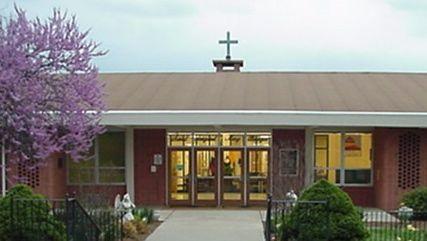 Welcome to St. Margaret Mary Alacoque Catholic School!  We are a vibrant, close-knit community rooted in faith with a rich history of academic excellence in Catholic education. For over 50 years, we have educated thousands of young minds, helped many more grow in their Catholic faith and have enriched our community. As teachers and administrators, we strive every day to act as the hands, heart and feet of Christ for our students. I am proud to have served as the principal here for 10 years. I take great honor in shaping the future of our community through leadership in faith-based education. I am privileged to work with dedicated teachers whose passion and belief in our students inspires me each day. Together, 435 students, 43 teachers and aides, 3 priests, 1 principal and countless volunteers and parishioners make St. Margaret Mary Alacoque a wonderful place for each student to grow academically, emotionally, physically and spiritually. We witness their faith and education making an impact in the world every day. I encourage you to visit our school and learn how you can give your children an excellent education rooted in strong values and guided by the Catholic faith. Come join our community and be the hands, heart and feet of Christ.
Mrs. Peggy Visconti
Principal
Mission
The faith community of St. Margaret Mary Alacoque supports our Catholic school as a response to the commission of Jesus to teach all nations. We believe that we are co-educators with parents, the first teachers of children. Our goal is to recognize each student as uniquely created and gifted by God and we will work to help each one discover, develop and dedicate his or her gifts as citizens of God's Kingdom. We are the hands, heart and feet of Christ.
Purpose
By incorporating Virtue Based Restorative Discipline and actively teaching and living the Virtues, our students strive to evangelize the message of Jesus Christ in their daily lives.
Quality
St. Margaret Mary Alacoque School offers a solid, comprehensive religious and academic program for students, catered to each individual's needs. As students are formed to be the Hands, Heart, and Feet of Christ, teachers design classroom and activities to motivate and challenge each individual in a supportive environment.
Dynamic Community
Students use knowledge gained to explore and deepen their understanding of concepts in our two unique learning spaces: The SMMA Innovation Lab and The STREAM Studio.
Statistics
90% of graduating students go onto Catholic high schools
We consistently score higher than the national average on the Iowa Test of Basic skills (ITBS)
We are a Virtue Based Restorative Discipline (VBRD) School of Distinction
As an Apple® School, more than half of our teachers are Apple® Certified
4900 Ringer Road
St. Louis, MO 63129
United States