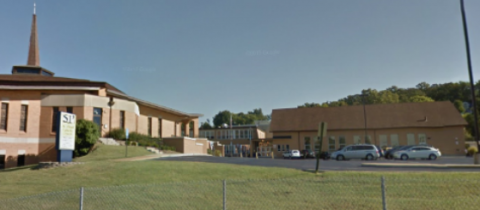 Welcome to St. Paul Catholic School.
We are happy that you are considering a partnership with St. Paul School for your child's education.  St. Paul School is an amazing school community where your child will "Grow Together in Faith, Knowledge and Virtue."
Faith…
The education that we provide is centered around two thousand years of Catholic history, thought, culture, and art.
Knowledge…
Intellectually, we strive to build a solid foundation of reading, writing, mathematics, science, and social studies skills; preparing our students to engage in projects and activities which requires them to think logically, creatively, and critically.  It is our goal to graduate life-long problem solvers and learners who are prepared to meet the challenges of our ever-changing world.
Virtue…
We strive to practice the understanding that we must live our lives in the light of trust and acquire God's virtues in order to live happy, productive, and integrated lives in the service of God and others.  Through our partnership with you, St. Paul Catholic School strives to support your entire family.  As Blessed Pope John Paul II said, "As the family goes, so goes the nation, and so goes the whole world in which we live."  At St. Paul, we seek to deeply involve our families in the life of our school and the education of their children.
Without a doubt, a Catholic education is a sacrifice for families who choose it for their children.  We, at St. Paul, take this sacrifice seriously and pledge to provide your student with an education that is worth that sacrifice and more.
Christ is at the center of all we do, and we invite you to join our school family as we strive to "Grow Together is Faith, Knowledge, and Virtue."
Mission
St. Paul Catholic School is a faith community rooted in the teaching of Jesus Christ. We are a learning community where students, parents, and educators share a vested interest in the success of ALL children. Therefore, St. Paul School Mission / Vision:
● Inspires the excellence God places in each student, staff, parent, and community member.
● Fosters a culture of educational distinction through critical thinking, innovative and rigorous curriculum standards, and collaboration.
● Nurtures a global perspective, with emphasis on accountability, moral education, community, and service.
● Promotes lifelong learning that propels our students through the 21st century
● Graduates Christ-centered learners.
Purpose
Prayer is at the heart of St. Paul School with weekly all –school Mass and Adoration. Students pray together daily with all-school prayer occurring four times throughout their day. St. Paul School practices Virtue-based Restorative Discipline school-wide. The eight virtues (kindness, courage, forgiveness, hope, acceptance, respect, thankfulness and unity) on which our community was founded are entwined in everything that we do from core subjects to service learning. We are a school where students develop a strong connection with Jesus and his teachings.
Quality
Our goal is to deliver the highest quality curriculum with curriculum reviews and updates occurring yearly. Professional Development for teachers is infused throughout the week to keep staff current in new teaching strategies and standard-based learning. We use the Trimester system for grading which allows us to go deeper into our learning. Parent/teacher conferences are offer each trimester to keep parents informed of their students' progress.
Dynamic Community
St. Paul offers an Enrichment Hour for our Middle School students to explore project-based learning, robotics, and other high interest topics. Students meet three times a week for E-hour classes. We also offer an Enrichment Program that meets once a week for students who have higher achievement/performance scores. We offer a variety of after school clubs and activities for all students throughout our school week.
Statistics
100% of our Middle School and Intermediate Grades have a ratio of 1:1 with technology devices with 100% of our Primary Grades having a ratio of 1:2 with technology devices.
95% of St Paul graduates continue their education in private high schools
Using a $48,000 grant from the Beyond Sunday Education Fund, St. Paul has enhanced our curriculum with STREAM Learning (STEM), Makerspace Learning, Robotics, and Engineering along with infusing more technology into our everyday classroom lives.
There are 2 highly qualified full-time Learning Consultants on staff at St. Paul who meet the needs of all students in the areas of enrichment and learning.
St. Paul offers a variety of before and after-school clubs for our students (i.e. Band, Chorus, Equations Competitive Club, Robotics, Engineering and Speech Clubs) each day of the week.
Service Learning through our Youth Ministry program is emphasized beginning in 4th grade (SURGE) through 8th grade which then move into our high school Youth Ministry.
465 New Smizer Mill Road
Fenton, MO 63026
United States