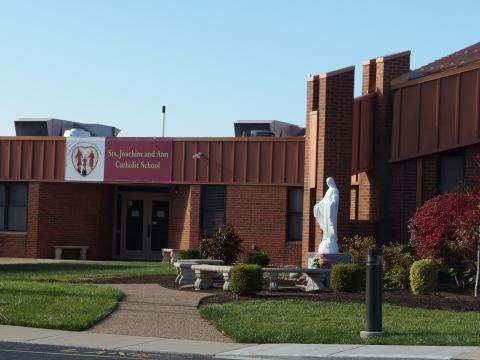 At Sts. Joachim and Ann Catholic School, we strive to continually model the nurturing example of our namesakes, St. Joachim and St. Ann, the grandparents of Jesus Christ.  We celebrate and develop the unique gifts and talents of each child, and provide a loving, family-like atmosphere whereby all are encouraged to discover their full potential spiritually, academically, physically, and socially.  We find it an honor to be chosen to work in partnership with parents in the forming of their children in all of the before mentioned areas.
Sts. Joachim and Ann students are renown for being children of faith, children of service, and children of wonder. We strive to create an atmosphere where each child is given the opportunity to reach their full potential in a welcoming and inclusive environment, surrounded by family and friends who share the same Christian values and beliefs.  At Sts. Joachim and Ann School, our students and their families are warmly embraced in community. Our philosophy of Catholic education can best be summarized by the words of Father Michael McMahon, who said, "Entrusted to our care are the future citizens of the eternal kingdom. And we must spare no expense, nor labor, nor effort or energy, to collaborate with the Lord of the vineyard and bring to full fruition this heavenly harvest!"
We encourage anyone interested in joining our parish and school family to contact our school office at (636) 441-4835. We also encourage you to visit our school website at https://stsja.org/school. Financial assistance is available for those who qualify. We accept children of all faiths and ability levels.
Mrs. Sue Schutz
Principal
Mission
We, the school family of Sts. Joachim and Ann, have as our foundation the teachings of Jesus Christ. In partnership with parents, the primary educators of their children, we strive to foster educational excellence and growth of mind, body and spirit. We call forth the unique gifts and talents of our students to be of service to the community and our world.
Purpose
Each child is provided a solid formation in their Catholic Faith. Our educators provide a positive discipline program rooted in scripture. Our religion curriculum is based upon the Catechism of the Catholic Church. The children receive training and opportunities for active participation in liturgical ministries. Activities in the life of the school are shaped by Catholic spirituality and set by the rhythm of the church calendar and seasonal worship.
Quality
Each child is encouraged to develop to their full potential through a differentiated learning experience. The principal and teachers work hard to create a strong core curriculum reinforced with supplemental and hands-on activities. Faculty and administration recognize and celebrate each child's talents and gifts. Within the classroom, differentiated instruction and kinesthetic learning are utilized to help each child excel.
Dynamic Community
Each child is known by name and supported in a loving, nurturing environment. We feel that there is an increased safety for our students due to the high-level of familiarity between students and faculty. Students have access to counseling and full-time health clinic services to ensure their emotional and physical well-being. Students thrive socially and are more comfortable expressing themselves and sharing their talents in our more intimate, personal environment.
Statistics
The average student to teacher ratio is 20:1.
74% of our teachers and staff are also parishioners, active in parish life and ministries.
85% of our teachers and staff have raised or are raising their own children in our school.
14% of our teachers have taught at our school for more than 15 years.
Over 43% of our teachers have attained post-graduate degrees.
100% of our teachers are religious education certified
4110 McClay Road
St. Charles, MO 63304
United States